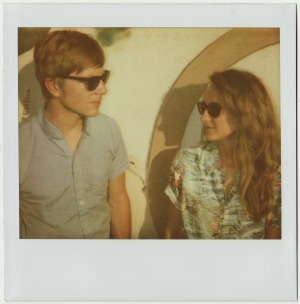 By: Emily
The husband and wife duo Tennis produced their first album after a seven-month sailing trip. It was nautical, it was sweet, it was catchy. But neither the girl/boy format or the indie pop sound were very original. And the concept and cuteness factor were nauseating as a case of swash-buckling sea-sickness.
But the duo has docked and recently released their sophomore effort, Young and Old. This album certainly a bit more grounded. The production is stronger, the hooks are better, there is a hell of a lot more percussion and the lyrics are a tinny bit more substantial. On "High Road, " Moore repeats, "Paradise is all around/But happiness is never found." This time around, it feels less like Tennis is trying to present themselves as a shining indie-darling couple. The album succeeds in creating another soundtrack for head-in-the-clouds wanderlust, but with less naiveté and a bit of grit.
Tennis is opening for White Rabbits tonight at the Black Cat to a sold out crowd. Perhaps the added drums and riffs on Young and Old will translate into a solid live show instead of getting lost at sea.